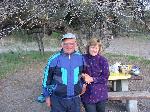 Gila Cliff Dwellings
0 mi
::
174 mi
::
Sunny, warm
Ann is still limping a little in the morning, so we decide to stay here for a rest day. I stay in the tent late, reading the bloody grand finale of Hamlet.
We need a little more food for the extra day, so instead of breakfast I start walking towards Doc Cambell's. AFter about 3 miles I stick out my thumb and get a ride from a friendly retired gentleman from Silver City.
Herr Lueka is distracted by customers on horseback when I arrive, but he's soon offering me advice on Ann's foot. "She should walk on it," he says, "it will hurt for a long time, but get better." He suggests I take some ice cream back to Ann, which I do. There is no traffic on 15, so I walk all the way back. I probably should have rested my knee also, which I can still feel.
We have a leisurely afternoon in camp, soaking our feet in the West Fork Gila River and reading. Arnold and Marlice, a retired couple visiting from Germany, move into the site below ours and make us coffee.
I check my solar panels at one point and realize that one LED is out, and they're not working. This prompts me to walk a mile back to the Visitor Center and call Ann's mom to see if she can get a replacement sent to Pie Town. Until then I'm writing my journals on the backs of our maps. The camera and GPS will be the next to go.
Just after we eat our dinner, Arnold invites us to share theirs. I accept, not taking such invitations lightly. Their English is limited, my German is awful, and Arnold and Ann both speak some French. Between the three, we have a great dinner conversation (as well as a tasty burrito dinner). Arnold and Marlice LOVE Tex-Mex!