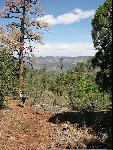 Tadpole Ridge
to
Gila River
13 mi
::
157 mi
::
Cloudy and cold, sunny afternoon
It's a cold morning, hard to get out of the sleeping bags. But when we do get up we pack quickly to stay warm, and head down sheep corral canyon. It's still cold and cloudy when we stop for breakfast, but the sun comes out as we climb up our last ridge before the 1700-ft descent to the Gila River. It's longer than we anticipated, and we stop for a lunch break halfway down. We had planned to retreat to the highway if the river is too high to cross, but I find myself hoping we don't have to climb out of this canyon again right away.
The river bottom is a totally new environment. There are huge cottonwoods, juniper, and knotty white barkless tree we don't know. Knobby volcanic rock walls rise up from the canyon floor. It isn't long before we come to our first crossing.
It looks a little fast, but not too deep. We spend 20 minutes getting all our loose gear secured and water-ready. I start across. It takes a second to get my footing. I move carefully across, moving only one foot or pole at a time to keep the current from taking me. It gets to about thigh-deep on the far side, then I'm done. Ann follows suit. Of course the water is higher on her, she does it solidly.
Several more crossings follow. Most are easier, except one that is deep and fast enough to catch Ann's pack, so I take it for her.
Around 5 pm we start looking for a hot spring that's on our map. We ask two kayakers floating by a crossing – the only people we've seen since leaving Silver City – but they only know about one several miles upstream. I poke around the shore a bit though, and soon see steam rising.
There is one large pool that is unbearably hot. A few others dug nearby are only tepid. It's frustrating, but we settle for a nice hot sponge bath. Then I find a spot where I can sit as the spring drains into the river and get a good mix. Feeling nice and mellowed out, we decide to camp here. It's a Friday night party, complete with hot cocoa in bed.