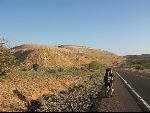 Tyrone Mine
to
Silver City
13 mi
::
117 mi
::
Sunny, warm, breezy
The heavy machinery up in the Tyrone mine worked all through the night. We're glad we didn't camp any closer.
Ann's feet seem much better when we start walking past the big copper mine. The variety of colors in the huge tailing piles is amazing. We see cascades of water running down the rocks in spots, into pipes that emerge in a little plant at the base.
Highway walking is tough on the feet, and after breakfast Ann starts limping again. We take it slow and theorize about the type of people who wave from cars, and how they do it. One enthusiastic RV driver nearly dislocates his arm giving us the thumbs-up, which brightens our mood considerably.
The prospect of town makes us giddy at times, but depressed when it never seems to come. Ann especially isn't used to this process, and hits the extreme highs and lows. Eventually we stumble into Silver City, and are thankful when the Palace Hotel has a room for us.
We're now well fed and in a cozy room. We'll have two full days of R&R here before launching off into the boonies again…