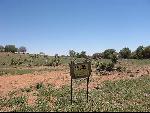 White Ridge Canyon
to
Tyrone Mine
16 mi
::
104 mi
::
Sunny, warm, breezy
I wake up at sunrise, get dressed, and head back down the road for water. I find a full stock tank, but the spigot is under water, so I have to filter it. This is the first time we've had to filter water so far, by good fortune. It takes half an hour to finish two gallons, the filter working well, and I head back in a bath of morning sunshine – which unfortunately leaves me smelling no sweeter!
Ann's tendons are still hurting when we start walking. She hobbles along until breakfast. We decide if we find more water we should stay there for a day of rest, then skip the part of the trail that makes adds 12 miles to go up Jack's Peak. My knee is still a little painful too, so I could also use a rest.
When we continue, Ann discovers that loosening the tops of her boots provides some relief to her tendons. She figures that tying her boots too tightly – which she did to prevent blisters – caused the tendon problem. When we come to a windmill with water she's feeling optimistic and ready to go for Jack's Peak. I'm heartened, and on we go.
There's a lot of private property on this stretch, and we learn what we can about the owners from their fencepost signs and their beer cans. Bud Light is still the winner it seems when it comes to flinging empties around on your property, but some owners in the area clearly prefer Keystone Light, with Natural Lite and Coors Light also making a showing. Some owners have custom No Tresspassing signs made with their ranch name on them, some use the premade plastic signs, some put up paper signs and let the rot off, and some have paragraphs of fine print to read. None invite CDT hikers to help themselves to water.
By the time we reach the turn to the peak, Ann is still hobbling pretty badly. We decide it would be foolish to try for the peak. Even skipping the peak, we have 16 miles of highway to walk to Silver City. With a last glance up at Jack's, we start the other way.
We gimp our way four miles along highway 90 by bedtime, with a dinner stop in a big culvert (where I fling our pot lid halfway under the highway after setting our dishtowel on fire from the stove).
At 7:30 pm we start looking for a place to sleep near the Tyrone mine, trucks still rumbling away up on the tailings. We find a secluded spot behind some bushes and watch the stars come out.