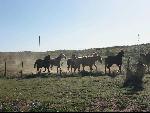 Ninetysix Ranch
to
White Ridge Canyon
17 mi
::
88 mi
::
Sunny, warm, breezy
It's calm in the morning. We sleep in until 7:30, it feels so nice.
While we're walking the fenced corridor we stopped at last night, a bunch of gorgeous horses run up on one side. They're part of the ranch we're passing, a tidy, attractive spread. Later a truck with a horse trailer pulls up to talk with us. Paula and Joey invite us to stop at their ranch ahead for water and even showers if we want, then they take off again. We're amazed at their hospitality.
We stop at a tree for breakfast, the first one we've seen since Tuesday morning.
We stop again at Paula and Joey's for water, and leave a thank-you note.
There's another really idyllic ranch down the road, with a shiny windmill, huge shade trees, and no power lines. We're getting to like these places, even though we know many of them probably don't like us, or the trail. We're dependent on them, and their cattle, for water. We can both spot a windmill now from miles away.
Body parts are starting to complain more loudly now. It's hard to tell if pains are things that will strengthen and go away, or weaken and force us to stop. Today my knee hurts, and Ann has trouble with her Achilles tendon.
We finish the day by walking too far because of another incorrect description in the guide book. In the morning I'll have to backtrack a mile to get water for our next twenty miles.
Our bed is the continental divide tonight, with views of distant mountains and towns spread out before us. I can't think of a place I'd rather be with my wife on our honeymoon.