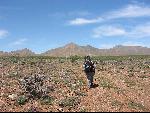 Hachita Ranch
to
Howell's Ridge
17 mi
::
38 mi
::
Sunny, breezy, warm
We decide to walk the six miles to reliable water at a windmill before breakfast. On the way we pass two watering holes with usable water that appear to be spring-fed.
We encounter some tracks in the road, one set Ann's size and one mine. We wonder if there is another couple on the trail ahead of us, but they disappear after a while.
The windmill is totally defunct when we reach it, which is strange because we both remember seeing it running on our way in. To our relief there is good water there, trickling in from a pipe sunk in the ground. This is truly an oasis, with the only big cottonwoods in the valley providing shade. We spread out, bathe, do the wash, eat, and relax. Ann says it feels like we're cheating, it's so nice.
The time comes to step back into the desert, loaded with water. The walking is on old roads today, and the miles go by faster, though not without pain. Ann's feet are suffering, and hips from the pack's waist belt.
We really get a sense of how open the country we're crossing is today. We can see the oasis and our camp most of the day, and can still see the terrain near the border now.
Our food is holding out well, and our progress is better than we expected. Ann seems to be really getting in the swing of walking, which makes me happy. We may still miss our hotel reservation in Silver City, but we hope to make it the next day.
It occurred to me today that we have yet to enounter another person.