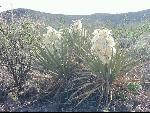 Sheridan Spring
to
Hachita Ranch
10 mi
::
21 mi
::
Overcast, then sun
We begin the first true day of the Continental Divide Bushwack. Here the trekking poles prove their worth as tools for balance and moving thorny branches. We fight through brambles and cactus up about 1000 feet to a pass, then down through the same to Thompson Canyon. The book gives it 4 miles, but it takes us most of the day.
Thompson windmill is bone dry. We still have plenty of water, or I'd try to crank it up. The rest of the day we find a nice rhythm on the dirt road we drove in on. Six miles of it does us in with foot pounding, though. We figure we have five miles to go to the next reliable windmill in the morning.
Ann and I both experience auditory hallucinations during the day. I hear running water where I know there isn't any, and Ann hears approaching vehicles that never come.
We saw some wonderful, delicate desert flowers today. There aren.t big stands of them, but their isolation is part of their beauty. The place feels alive with spring.