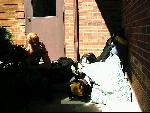 We're sitting at the bus station in Colorado Springs! I can't believe it. I ran to get breakfast burritos when the bus stopped here, and when I came back the driver was unloading our bags. I can't blame him for not letting us back on – we'd already made him late!
It was agony watching the bus pull away without us, knowing we'd miss our offer for free massages this afternoon, but suddenly it got much worse. I remembered I'd left my solar panel charging some batteries in the window! That thing is the object of so much of my hope and effort, I nearly cried.
The lady here called the next bus station and asked them to board the bus to look for it. I have my fingers crossed!