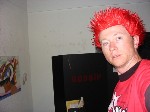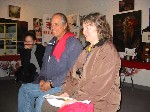 Today we attend the grand finale of Sociometry Fair 2004. As always there are many strange and interesting people milling around, with intriguing conversations springing up frequently. Amidst these I do my best to absorb the exhibits.
There is a self-service VCR screening area with a large selection of tapes. I catch some agents watching a biography of Le Petomane, a turn-of-the-century Frenchman who made a historical career of his ability to fart on command. Meanwhile I browse the documentation of an agent's attempts to trade book club memberships for artwork with a man in prison for connections to the Russian mafia, records of agents attending Metallica concerts disguised as Mormon missionaries, and the results of the SociomeTree survey from the last fair. These were just a few of the thought-provoking and entertaining exhibits.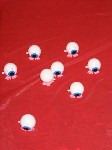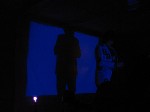 The last event is a screening of films submitted by agents. I can hardly describe them all – but the quality of them surprises me. The fair has attracted some real talent. I can't wait to see what 2008 brings!