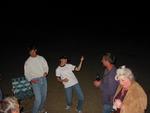 A variety of oddball climbers have been my family in Ridgecrest, California for the last two years. Many of them show up at Wagon Wheel for my going away party. My need to blow off steam after my last day of work seems contagious, and we howl and drink our way late into the desert night.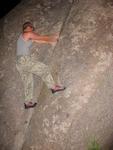 Ann even does a repeat of her first margarita-influenced nighttime ascent of this nice crack. Even though we're sticking to wine and beer tonight, I'm starting to think of this climb as 'Tequila in the Dark'.
The climbs and climbers of Wagon Wheel embody what I love about Ridgecrest. I'll miss them.