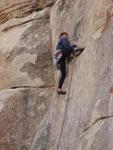 We meet our friends Steve and Catherine in Joshua Tree and agree to go to the Echo Rock area. Their friends Mike, Roger, and Hoffman are on their way also.
I haven't been feeling like leading anything, but when we get to the Little Hunk the weather is gorgeous and there is a short 5.8 roof called Monkey Business that looks like a good diversion. I borrow a few wide cams from Steve and go for it. My head is still not in trad-mode, and I've never really protected a big roof before. I make a pretty stressed, muddled ascent, with a nasty cleaning job left for the follower. Ann tries, but ends up accepting Steve's offer to clean up my mess.
It gets better after that. I follow Wage and Price Ceiling 5.10d, nice bolted face, and Space Slot 5.10a which has several fun moves – one going up a giant block and another stepping off of it back onto the face. Then we move to Snickers and I get some nice shots of Roger trying to lead a new 5.11-ish bolted route. Steve ends up finishing the lead. I try it on TR, enjoy the thin face moves, and get stymied right where Roger did.
We all finish the day at Crossroads, where we see a very suprised Miki with an unnamed companion. Afterward we say goodbye to Steve & Catherine, unsure when we'll meet again, and head back to camp.