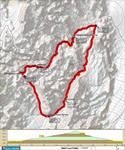 Camp 2 in Dead Horse Canyon
to
Cottonwood-Marble Canyon Confluence
8.8 mi
::
5 hr
Just up the canyon from our campsite, someone has dug a small well. After breakfast I wander up with Jezebel and fill her water bottle. There are some tadpoles swimming in it, but she doesn't mind. You could certainly filter this water. There are probably mainy spots in the canyon where water is just below the surface. Ann and I still have several liters from yesterday, though, so we don't have to try it.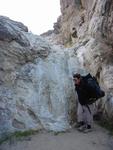 Dead Horse canyon continues east for a while before turning north to meet Marble Canyon. Walking into the sun, we hit another dry fall that is more difficult to descent than the ice falls. Ann passes her pack down to me before sticking her feet to the dirty, sloping holds.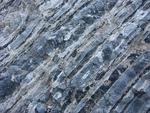 The rock is the star of the day today. As we draw closer to Marble, the variety increases. The number of colors in the rock layers multiplies.
The variety of shapes grows as well. I wonder if the spheres in this geometrical arrangement are bubbles in cooled magma that later filled with some other kind of rock? We lament our geological ignorance.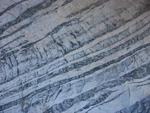 There is a large cairn and a trail that disappears over a small hill where Marble Canyon joins Dead Horse. Ann wonders if the trail might skirt the dry falls we climbed down. We explore a little ways up Marble Canyon, then head down. It doesn't take long for the classic, banded marble to show up in large formations.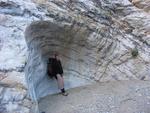 The canyon squeezes in, then opens up again in intervals. Each narrow is more impressive than the last one. We meet an older couple, the man walking in cowboy boots, who tell us the best is yet to come.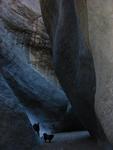 Indeed, we soon enter a deep marble slot that is almost like a cave, with just a narrow crack of light above. The walls are dark marble, scarred by torrents of water as if they were blasted by jet engines. The floor is dark, cool, and still.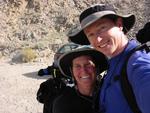 We're starting to tire, and take a lunch break just before reaching the end of the Marble Canyon road. From there we push quickly back to the car. We still have water left, but feel like we drank our fill on this hike.