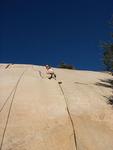 Here's Clare after pulling hard through the crux of the brutally parallel finger crack, Initiation. After putting a toprope on it, I can't crank through it. Barry and Ann both give it an unsuccessful whack as well. It seems made for Clare though, who sinks her fingers in and cranks away. We cheer her on, and she doesn't charge me a gear-retrieval fee.
Ann and I started the day on Dirty Dishes, a long, stiff 5.7. I did an alternate trad start to it, felt like I might fall on one move but happily stuck it. The rest is a sea of small edges, which is disconcerting because you really have to smear on them. This throws Ann at first, but she gets the hang of it.
To the left of Dirty Dishes are a couple of short cracks. We play on these on TR, and test the friction on slab moves between them. That's when I move the rope to Initiation, not knowing what I'm in for. Clare says I should get myself in such enjoyable jams around her more often.