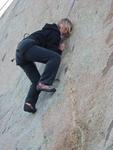 We wake up to clear skies, and I feel excited about getting a couple of routes in today. The whole family packs up and heads for Big Rock at Perris Lake. The gate is closed, which adds half a mile to the approach but also thins the crowds. Today there's only one other pair of climbers on the rock.
We start on Puppy Dog, 5.6. This is a good slab warmup. Ann's brothers both make it up, Randy's second climb and Ryan's first. Randy's wife Amy has fun going up too. Ann and I also TR a route just to the right which has a really fun 5.7 or 5.8 move on it.
After lunch I lead Mind Bender, 5.9, a little hesitantly because I had trouble with one move when I TR'd it last. It goes really well though, I feel solid all the way up. Ann works out a great sequence for the reachy move on TR that makes me proud. Amy and Randy also give it a whack. Neither make it past the crux, but they both give it a real effort in too-big shoes. Amy especially seems to have good instincts on the rock.
I finish with a TR of Frontal Lobotomy, 5.10a. This also goes much easier than my last ascent. I think the cooler temperatures may have improved the friction. They also shorten the day though – when the sun dips under the ridge it quickly gets too cold to climb.