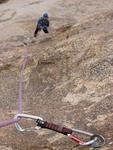 We meet Werner, Walter, and Clare at 8 am. We also meet Chris for the first time, and his dog Luka. Jezze nearly breaks a window out of the car trying to meet her as well.
The approach to the Condome is different for the north and the south side where we're headed. We nearly follow Walter and Clare up the wrong drainage when Werner yells to us, "You have to follow the old farts!" Either that or the trail markers. We manage.

Our first climb is The Impregnable, 5.7/5.8. The first pitch is well protected and easy. I'm planning to do both pitches at once, then share ropes with Werner and Chris at the second anchor to rappel back to the ground. I'm about 20 feet above the 1st pitch anchor, yet to clip a bolt, when Werner yells up, "You should have belayed at the anchor! The rope won't reach!" I stop. The crunchy-sounding slab moves do not make for an appetizing downclimb. Instead I crunch up to the next bolt. Ann thinks I'll have enough rope, so I go for it. The moves continue to be a bit harder and crunchy, with well-spaced bolts. The last moves are some of the hardest, up a small dike of loose-looking crystals. It's all very exciting. I'm thankful when the rope reaches, and all is well. Ann then walks up the climb like it's a sidewalk.
Next we move over to The Inconceivable, 5.7. Again I nearly pass the first anchor, but I ask Werner and obey when he tells me to belay. Good thing, because both pitches use more than half the rope. There are couple of fun moves on this. The climb itself is mostly decent rock, but is surrounded by tons of rotten stuff waiting to fall off. We wait at the top of pitch 2 for Werner and Chris, then share ropes again to rap off, this time in 2 stages. It might be possible to reach the ground on two 60m ropes from the second anchor, but no one volunteered to try.
Meanwhile Walter has successfully lead Finger Food, 5.9, and is happy about it. We eat lunch then wander over to have a look at it. It's a short but very nice looking finger crack. I start up, using my two finger-sized (yellow & green) aliens right away. I Z-clip the second one, fart around to fix it, then climb down again to rest. My next ascent feels a little less smooth, but I make it up above my last piece and start trying to get something else in. Nothing will go. Red alien is too big, stupid Metolius nuts just aren't working. I'm gassing out. Finally I give up, but at least manage to downclimb again rather than fall. Rather than try again, I just climb around and put a toprope on it. I manage to climb it this way, but it's hard because I'm tired. Chris gets up with a hang, Ann without, then Chris finishes the day with a smooth ascent. The Finger Food is as good as it looks.
On our way down the evening light is spellbinding, as is usual in this desert valley.