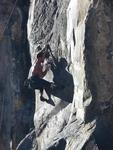 What a good time of year it is to spend a day at Fossil Falls. I'm just recovering from a cold and relish the ability to be active outdoors again. There's a chilly wind, but it feels perfect in a windbreaker. We TR some old favorites in the upper canyon, starting with the aptly named Birdshit Crack (5.7). It's a pleasure to watch Ann's amazement at herself as she climbs easily what once seemed an impossible climb to her. We also do the 5.9 roof to the left which Ann makes some progress on but doesn't finish. Then I move the anchor to a short 5.9 hand crack around a corner on the right. Again, Ann surprises herself, makes it up quickly, and I enjoy every minute.
Curtis and Ted have set up in the lower canyon meanwhile and invite us to use one of their ropes. I'm in the middle of setting our rope on a nice 5.10 hand-crack-to-jug-haul route. We decide to leave our rope up and go say hello to Ted & Curtis. That we do, then I fail to repeat Ride of the Valkyries (5.10c) and Ann fails to start Eagle (5.9). It's a downer. I say hello to Brian, a climber I run into now and then from Bakersfield, and his partner complains about our dog Jezze growling at their dog. We leave grumpy, especially Ann. It almost ends that way, but then Ann graciously offers to rap back into the upper canyon and give me a belay on the jug haul. I have fun, and her mood recovers a bit vicariously, so at least we leave feeling good again.
Also, we missed a good photo op! There was a beautiful big hairy tarantula at the base of Eagle. I don't know why we didn't think of getting a picture of it.