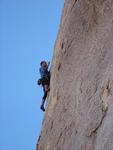 Ann rejoins us and we take off for the climb Ted's been talking about all weekend, Run For Your Life, 10b. In the book it's the only bolted route on the prominent face of the Tumbling Rainbow formation, so Ted doesn't bother even bringing the guidebook. On the approach I experience nervousness for the first time from Ann wanting to climb something that looks dangerous to me. It turns out to be fine – I haul her pack up, she puts her shoes on and does it easily. But it's a new perspective since I am usually the one scrambling around and making her nervous.
We get to the belay ledge and there are two bolted routes. After some debate Ted chooses the left one. He has to step on a loose rock to reach the first hold. Some hard looking moves follow, and he hangs on the first quickdraw before he sees a crucial hold. Then he sends the rest of the climb without a hiccup. Ann gets on next, and makes some progress but is stopped by those tough early moves. On my turn they take me a few tries, but I work something out. The rest of the climb is a relentless crimpfest. It never gets too much harder, but it also never gets any easier. At one point I weight the rope a bit in exhaustion, but muster some juice to continue. There is some semblence of a rest, then a secondary crux at the top. I finish feeling very impressed with Ted's lead.
Later I ask Daryl at Nomad Ventures about the route, and he's heard it is a 5.11. Rockclimbing.com lists it as 11b. Ted swears it can't be more than 10c. I'm uncertain. I wasn't feeling at my best, but it was hard for me. I might give it 10d. Regardless, it's an excellent, sustained route, and is not Run For Your Life.