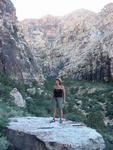 We make it to Red Rocks around 9 am, pay five bucks to get in (the first BLM fee I've paid), and start around the loop. We stop at all the turnouts and what routes are nearby in the guidebook. At the Sandstone Quarry there is a nice shady 5.9 route right in front Sicktion. We throw a toprope on it and take our first taste of sandstone. It's the white stuff here, pretty smooth, with seams and folds for holds. I'm not sure what's going to stick, but I get up without falling. Ann has to try one move a few times, but she gets it too. By that time the sun on us, and we move on.
At Icebox Canyon we decide to find a 5.8 crack route Ted recommended called Foldout. It's a nice hike, and we take some lunch to eat when we reach the shade. There are some mosquitos there, but it feels great in the cool shady riverbed. The canyon above is appealing as well with its high, steep, mottled walls.
We make our way up to the route, a heavily huecoed, gaping crack. I feel good, ready to have at it. The start is like a ladder, the big huecos providing bountiful holds. As I go up it gets steeper, the huecos shrink, then disappear. The crux is a beautiful hand crack in a blank face. Ann follows with no problem, trying the top moves twice, but without hanging. I look over at the route to the left, Sensous Mortician (5.9). It looks like a runout roof move at the top. I'd love to try it on TR. I could lead a little traverse over to the anchor, but we've been leisurely today and are already short on light. We hike back feeling good.