Need instructions? If you have the 13'x10′ model, your prayers are answered! Here is a PDF of the owner's manual. Commenters report good service by calling 1-800-775-1965 for other models. Commenters have also, in the spirit of empiricism and reverse engineering, written their own instructions for the 14′ x 12′ and the 10′ x 13′ (same as 13×10?).

This seems to be a widespread problem. Since you don't need to leave a comment begging for instructions, how about leaving one with your location instead? We'll see how many screenhouses across the country we can rescue. You don't even have to bother reading the following review, whose purpose in life has become feeding the search engines and getting you here to end your desperate plight in the face of that pile of little white tubes…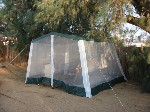 Now and then I walk into a store, it tends to be named ___Mart, and buy something I know is going to bring nothing but grief and heartbreak. But I hope it won't. Yes, I know it will, so what gives? Is it plain stupidity? A Pavlovian reaction to super-size doses of advertising? Greed, optimism, stinginess, and materialistic guilt thrashing together in a dance of futility that leads straight to the checkout counter? To make matters worse, sometimes I'm so ashamed of the purchase that I can't even bring myself to return it.
So far this sounds like a poor review, so let me say that, as the picture shows, the product did eventually reach a state of functionality of sorts. I know there is more grief and heartbreak in my future, but hey, I'm using it.
One mad idea often begets another, and that is how this $34.95 purchase came about. As I've mentioned elsewhere in the blog, I'm getting married in Joshua Tree on August 2nd, outdoors. It occurred to me that if I insist on inviting people into a blazing Mojave inferno in the height of the summer it would be polite to provide some shade. Shade can be a matter of survival there if you're outside at midday. So the idea was born. Then I started having other wild fantasies, like effectively adding a room to the desert shack where I live by erecting the shadehouse in the backyard. Hope. Optimism. Greed. Stinginess.
When I got the thing home and deboxed it, the reality began to set in. Dozens of two-foot sections of pipe spilled onto the floor with stickers labeling them '1B', '4', or '2B'. Or not 2B. Childhood memories of failures with Tinker Toys came flooding back. But, with determined hope, I began to wade through the instructions.
This is one of those products where the instructions are basically a complete fantasy. They make one false unstated assumption after another. And even then, they're not simple. What you wind up with is a web of pipes and plastic pieces that falls apart at one end as you assemble the other. Then the instructions start to get really funny. 'Insert the leg poles into the hubs to raise the screenhouse frame' got the first laugh. The "frame" barely stayed together on the ground. Any attempt to lift a corner and insert a leg pole resulted in pipes flying everywhere. I thought of resorting to duct tape, but since I had none handy, with great finesse I managed to lift each corner one pipe segment at a time. Some middle sections fell out but I had a standing frame of sorts, swaying and wobbling. Then came the real punchline.
'Drape the screenhouse body over the frames.' I thought I had never read a more ludicrous suggestion. Drape the body. HA! Not only was the frame more than a little unstable, the body is BIG, and HEAVY. Where would you start draping? At a corner? No way, the thing would explode. The only slight possibility was starting from the inside, in the middle. With great trepidation and many prayers I managed to do some draping. I had to take some pieces out to drape from the middle, hold everything together, drape, and put them back underneath the canvas. I could hardly believe it when I had the entire thing draped. Victory!
The rest of the process was funny too, with wimpy frizzy guylines, and inexplicable bits of plastic that are supposed to tighten them. I had to use every knot I've learned from rock climbing. But it went up. It's pretty nice. There's shade, and fewer bugs than outside the screenhouse. I do have some reservations left, though. I wonder what will happen when the wind comes. Will I come home and just find the screenhouse gone, or will I see it blowing around in the street, trailing pipe segments? What about the rain, or the potential for 120-degree heat? We'll see. For the moment, my dream of an extra room in the back yard has come true. Wish me luck putting it up at the wedding.