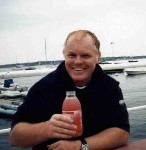 While taking one of only a few car rides during my 8-month bicycle tour, I saw a guy with a backpack sauntering along a quiet coastal road in southern Maine. Being used to investigating things of interest by that time, I was frustrated to watch him disappear in the back window.
Later I had the luck to catch up to him on my bicycle, and learned that he was attempting to retrace the 4,000-mile journey of 3 English sailors who were shipwrecked in Mexico and rescued in Novia Scotia in 1569. Richard's reversal of this journey is documented on his website at
www.richardnathan.com.