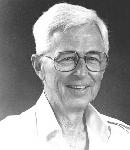 While I wasn't there when my grandfather died, I'm eternally grateful for the week I spent helping to care for him in the hospital prior to his death. As a child he was a magical figure to me, the source of gifts, desserts, far-fetched stories, and fishing trips. As an adult I marvel at his accomplishments, and feel rather small in comparison. Here is a short biography, written by my mother and printed in The Island Sun, the British Virgin Islands paper that covered much of his work there.
Dr.Ralph Blocksma died October 11 in St. Luke's Hospital in Jacksonville, Florida. He was 87.
Dr. Blocksma was born in Grand Rapids, Michigan, to Dewey Blocksma and Abbie DeBoer Blocksma. He attended South High School, Calvin College, and University of Michigan School of Medicine, completing surgery and plastic surgery residencies at St. Luke's Hospital in Chicago.
In 1940, Dr. Blocksma married Ruth Naomi Enss. A captain in the U.S. Army, he served from 1942-1945 as a plastic surgeon in evacuation hospitals in England, France and Germany.
In 1949, Dr. Blocksma began a career in international medicine that endured throughout his life, spending the next five years in Lahore, Pakistan, under the United Presbyterian Board of Foreign Missions to establish the United Christian Hospital where he became Medical Director and Chief of Surgery.
Dr. Blocksma returned to Grand Rapids in 1954 to begin a private practice in plastic and reconstructive surgery which he maintained until retiring in 1979. He practiced at Butterworth Hospital, where he served as Chief of Plastic Surgery, Director of the Oral Cleft Clinic, Chief of Staff, and member of the Board of Trustees, and founded and directed the residency program in Plastic and Reconstructive Surgery. In 1976 he was licensed to practice at the Peebles Hospital in Road Town, Tortola, British Virgin Islands.
During this period and continuing to the end of his life, Dr. Blocksma was committed to the health and welfare of people in the Third World. He did short-term missionary service in the Far East, India, Pakistan, Afghanistan, Oman, Bahrain, Lebanon, Ecuador, Panama, Borneo, Nigeria, Malawi, Nicaragua and Liberia; was a founding member, Chairman of the Board and life-long supporter of the Medical Assistance Program (MAP); and recently served as Chairman of the Board of Affordable Medicines for Africa (AMFA) in Nairobi.
Dr. Blocksma was an active member of over twenty local, state, national and international medical and plastic surgery associations and societies, serving on many boards of trustees or directors.
After retiring from active practice, Dr. Blocksma became Chairman and Organizer for the Annual British Virgin Islands Medical Conferences (1977-1993), under the auspices of Butterworth Hospital, and the Annual British Virgin Island Workshop in Plastic Surgery (1987-1993).
Dr. Blocksma maintained a life-long membership in LaGrave Avenue Christian Reformed Church, and served as an Honorary Member of the Advisory Committee of YMCA World Ambassadors.
Dr. Ralph Blocksma is survived by his wife, Ruth Blocksma; daughter Mary Blocksma, writer and artist; son Dewey D. Blocksma, artist and physician; daughter Julia A. Blocksma, musician; son Carter G. Blocksma, furniture and interior home designer; grandsons Dylan K. Kuhn, Colin McCulloch Blocksma and Dewey Blocksma Dunnington; granddaughters Anneke Blocksma Dunnington and Lorna McCulloch Blocksma; and sister, Jean Boelkins Clelland.
Dr. Ralph Blocksma will be remembered by thousands as the man who made life not only bearable, but beautiful. His compassion for the disfigured and tenderness with children lead him to new repairs for cleft lips and palates, decubitus ulcers and burns.
A memorial service for Dr. Ralph Blocksma was held at Palms Presbyterian Church in Jacksonville Beach on Sunday, October 14. In lieu of flowers, contributions may be sent to AFTA (Affordable Medicines for Africa), c/o Barbara Sperry, P.O. Box 20667, St. Simons Island, GA 31522, or to The Henry Beets Mission Society, c/o LaGrave Avenue Christian Reformed Church, 107 LaGrave Ave. SE, Grand Rapids, MI 49503.
The Publishers and Staff of The Island Sun newspaper join the BVI Community in expressing deeply felt condolences to the bereaved family of the late Dr. Blocksma.