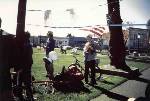 I have a good breakfast and a liesurely morning ride through Eureka to my starting point, Arcata. Time seems to slow down as the finish line approaches. I ride into town at noon, when they sound their warning siren. It rises and falls slowly as I ride by. When I reach the town square it has stopped, and I see a small throng of people waiting for me.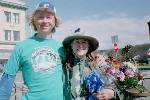 There are ballons, flowers, and ribbon finish line for me to crash through – all the doings of Mom and Dad. I drop the bike and receive a round of hugs, gifts, and then interviews from the Arcata Eye and a couple of local TV stations. Marty, the guy I rode with way back in Oregon who makes his own trailers, congradulates me. The whole time I feel like I'm watching this happen, unable yet to acknowledge it.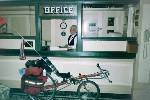 We eat a sushi lunch in the Arcata Hotel where I assembled my recumbent in the wee hours of the morning over eight months ago. As I ponder it I realize my adventure isn't really over. The journey back to Wyoming with Dad is in front of me, a rendevous with Ann is in the works, a trip to Ireland and Europe with Nathan, and I suppose I'll be starting a career at some point. The sadness I feel about ending my ride clings to me, but I know it will pass.