Berkeley, CA
to
San Francisco, CA
I ride the BART over the bay to San Francisco in the morning. I call Bruce to plan a meeting, and he proposes coming down to pick me up today. I have a few hours to hang out, so I munch on calamari on the wharf and talk with a guy who claims he's built the shortest wheel-based recumbent in the world, about 28 inches. The thing is fun to ride – instead of reclining it props you up into a standing position.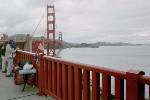 Eventually I make my way across the bridge, trying to envision what this bay must have looked like before being dominated by this mammoth red conveyance. I must admit, the bridge makes for an incredible view.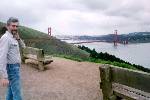 Bruce meets me on the north side and takes me to his house tucked away in the woods of Forestville. I plan to take a rest here, meet up with my mom, and make a day excursion back south to the Golden Gate Bridge on the bike at some point.