San Mateo, CA
to
Berkeley, CA
Starting early, I head toward the bay with no idea what I'll find there. I'm soon riding through the mirred towers of the headquarters of Oracle, Inc. The buildings themselves look like giant flowchart databases. No one is around this early, and the morning sun reflects blue off the tinted glass.
Entering a neighborhood of carbon-copy million-dollar homes, I realize that there will be no road that even pretends to hug the jagged coastline of the bay. This neighborhood bike path swings out onto a peninsula and back again. From there I find my way over a ditch on an old bridge, along a dirt path, and through a trailer court. This all takes a lot of time, and feeling my goal of riding around the entire bay slipping away, I pedal hard wherever I can. Eventually I'm forced onto highway 101 for a stretch, until I can duck off onto a frontage road on another dirt path. Soon enough I'm back on a busy road again. It's nearly noon already, and I resign myself to crossing the Dunbarton bridge and falling short of my goal. On either side of the bridge I peer at the sunny campus of Sun Microsystems, and I wonder if I will find work at a place like this when my ride is over.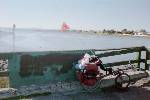 The east side of the bay presents many challenges. There is a flat, muddy, barren plain between the bay and most roads. Some parks have paths that lead enticingly toward the water and back again. I navigate through warehouse districts, marinas, parks, and railyards. It's as easy to get lost in a park as a neighborhood. At one point I'm forced to complete an entire loop of bike path, but I'm rewarded by the recurring sight of a busty jogger with the word 'Yummy' stretched across her chest on a skin-tight purple shirt.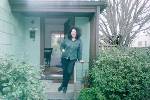 I can't even remember how I got around the Oakland airport, but I crossed at least one more bridge before plunging into endless neighborhood streets. I just head north whenever I can, and miraculously find myself in the slightly familiar neighborhood of Annemarie Sudermann before dark. She welcomes me in, feeds me a glorious, colorful, fresh salad, and talks to me while I'm able. It isn't hard at all to fall asleep on her floor.