Santa Cruz, CA
to
Pidgeon Point, CA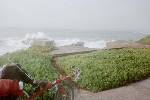 Sun today, through high, wispy clouds. I have cereal and cinnamon rolls with Zach and roomies, then say farewell. I watch breakers smashing into the rocks as I leave town. Civilization dissipates quickly, and I'm gliding through hills and fields.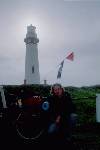 By early afternoon I reach the Pidgeon Point Youth Hostel. It doesn't open for a while, so I relax with a couple of other bikers. One is a day rider from Santa Cruz, the other is a Danish kid named Jan touring from San Francisco to San Diego. I give him one of my maps to help him through LA.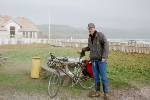 I have a lazy afternoon of reading, looking around the lighthouse, and playing soccer with some kids. When the hostel opens Jan and I book our beds for $8 each, cook some dinner, and relax in the hot tub with a panoramic nighttime view over the ocean.