Soquel, CA
to
Santa Cruz, CA
The thought that it is Valentine's Day does not occur to me at all. I'm just happy that the pouring rain has let up and that I'm still warm and dry. Unfortunately the feeling doesn't last. I get up and begin the extremely unpleasant process of putting on my wet clothes. My gear is all waterlogged. When I get packed up, I can still squeeze water out of my panniers. I rig what I can so the bike is ridable with the bent rim in back. I can ride slowly. I wobble into downtown Santa Cruz, see no bike shops right away so stop for breakfast. Everybody in the restaurant is very clean and dry compared to me, but no one says anything.
I ride up a hill to California Street. It looks familiar from a long-ago visit to Michael Burton. When I reach the bike shop I find it's one of those closed-on-Monday places. The only other shop I could find on my map was back on the other side of the river, so I turn around and go back down the hill. Luckily the other shop is open. They talk me into a burly, double-walled $100 wheel that will handle my abuse better. Considering I've ridden nearly 13,000 miles with 60 pounds of gear and most of my body weight on the back wheel, it seems a reasonable expense.
I'm out in front putting things together when a bearded, black-haired guy stops and asks, "Is your name Dylan?" I look at him in puzzlement, then it snaps into place. "Ah, you must be Zach!" Indeed, he just got back into town, listened to Buzz's message about me, and saw me out here in front of the bike shop. He's en route somewhere, but invites me to his place for the night. That is a welcome offer after last night.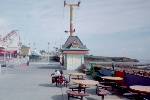 I finish my repairs, then tour the coast to the boardwalk. It's here I remember that it's Valentine's Day, because Ann mentioned to me that she likes to come here. Today it's deserted and closed up, and the beach is strewn with debris from the flooding. A pretty lonesome place. I sit down and eat a snack out of my pack, then go to find Zach's house.
He greets me and introduces me to his roommates, a married couple and her mother. Everyone is nice but has stuff to do, so I kill some time on their computer.
When Zach is free he takes me on a tour of the Santa Cruz UC campus, which is huge and even more lush and green than the grounds of Lewis and Clark College in Portland, where I lived for a year. We go out for Thai food. Zach is inspired by my endeavors and we have good conversation. We have similar ideas in much different contexts. It all clears up after dinner though, when we pick up Zach's friend and go to the bars. The subject turns to women, and they enjoy my New Mexico story. Here's a snapshot of our environment: a fight breaks out, the music stops, some drunks are kicked out scornfully, and then the ass-kickin' punk rock music comes back on. We laugh, and drink to being single on Valentine's Day.
On the way to the next bar I try to withdraw some money and get the insufficient funds message for the first time. Time to dip into savings…
The next bar is slow, so we call it a night. We pass a couple making out in the street, a prayer to St. Valentine.