Lompoc, CA
to
Morro Bay, CA
A cool morning. I'm soon climbing onto some dry hills past La Purisma Mission and the local cement plant. Before topping the ridge I look back over the strange misty Lompoc valley. It's typical California – it doesn't seem to fit here at all. The ride down the other side is a steep, twisty thriller. I'm in step now.
Highway 1 here is not much more than a paved farm road. Traffic is light, shoulder small. There are no towns for a long stretch, then Guadalupe. The variety of Mexican restaurants along the dusty main street is surprising and almost entices me to stop for lunch, but I keep going through irrigated fields and then low eucalyptus-covered hills. By Oceano I stop to check on my front tire. The bump caused by the thin spot is worse. I find that I've been riding on the the thick, thorn-resistant tube. Yikes. I take the tire off, slap in a boot patch and hope it holds for a while. I test it right away on a steep little hill. Good up to 38 mph at least.
I scout for bike shops and coffee through the beach towns, Grover Beach, Pismo Beach, Shell Beach. Nothing catches my eye, or my stomach. Totally improvising, I find a very winding, pretty route into San Luis Obispo. The boot patch is still holding, which is good because I ride all the way through town before finding a bike shop. The guys there are busy but interested in my tour. Mostly racers. I buy their last high-pressure 20″ tire, but it's a good one.
The country outside San Luis Obispo is a lovely combination of rolling green hills and towering granite rock formations. It's a long, beautiful ride on tiny roads. I notice a lot of signs deterring rock climbers from entering private land.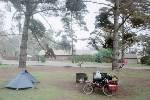 I'm tired when I reach Morro Bay State Park. The ranger is on her way out. She directs me to the hike/bike site and doesn't ask for any money. Smile.
To my amazement there's another tent at the site. After taking care of all-important FOOD, I wander over and introduce myself to two young Brits, Mark and Alexis. They're backpack touring the world, hiking, hitchhiking, bus, train, plane, and all the rest. Just out of high school. They invite me to walk to town later.
We have an interesting night hanging out at the local coffeehouse. We're invited to play monopoly with a couple of local freaks. I struggle to call the play money 'pounds' as we agree, but easily kick everyone's butt at the game. They bring out the capitalist in me, I guess.
After that I buy a fifth of vodka and some grapefruit juice, which we take back to the park with us. We talk all sorts of shit while getting nice and shnockered. They have no stove or food left, so I offer to make them some oatmeal in the morning, as they've shared their 'crisps' and even a couple of smokes with me.