El Capitan State Beach, CA
to
Lompoc, CA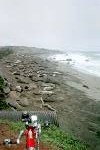 The morning is surprisingly cold and breezey. I ride along the coastal bike trail until I come to a barrier where it has washed out. I refuse to ride back two miles, so I haul the bike up to some railroad tracks, push it along awhile, then back down to the trail. These little obstacles and victories are really part of the joy I find out here.
Just beyond Gaviota there is a rest area where 101 turns inland up a canyon. The sun hasn't reached it yet, the tables are wet with dew, and it's cold, but hunger makes these drawbacks tolerable and I stop to make oatmeal. People regard me curiously, happily bundled up and cooking my breakfast in the cold.
I haven't been underway long when I look back along a frontage road and see a sign for hot springs. It sounds irresistable, so I find my way to a trailhead, then make a strenuous half-mile climb to a secluded pool. The water is milky white and has a sulfur smell that's not overpowering. I hang my clothes on a tree branch and sink into the warmest part. It's peaceful. I feel like a part of the woods. The water bubbles and caresses me.
Back on Highway 1 the day blooms warm and sunny as I sweat up a long, steep climb. After that I have lots of easy miles through dry, grassy hills and some big vinyards in the valleys.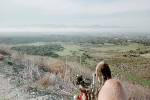 Still early I roll into Lompoc, eat lunch, and find the library. There's a black kid there, all smiles, who thinks maybe I'm good for something. He asks me for some change to pay for his printouts, all web pages on Chicago gangsters. He shows me Lucky Luciani, a ganger-pimp he says, admiring the photo. He asks me my name, but when I ask for his he smiles and say's he's got a lotta names. But Jerome is his birth name. He pulls out a Tupac CD to see how I react. Yeah, I know who he was. Should I care? He suggests we listen to it in my car. When he figures out I don't have a car, he smiles, tells me to keep my head up, and glides out the door without his prints.
I'm worried about my front tire. It has a really thin spot. I decide to get a cheap room and look for a new one. I wander around, find a bike shop, but they're out of 20″ high-pressure tires. I pick up a black & tan and some ice cream, kick back, and watch some TV. Take a shower. Luxuriate.