Oceanside, CA
to
Dana Point, CA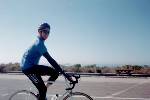 After a few bowls of cereal, Tom and I set off on our ride, an extended version of his usual commute to work. I know he's a racer and I can't help pushing a tiny bit harder than usual. But mostly we cruise and talk, much of the ride on empty roads and bike paths. We pass the power plant where Tom works.
It surprises me, given his Navy background, but Tom is pretty liberal and even shares some of my daydreams from time to time, like living in the mountains, off the grid. I feel comfortable enough to share my observations and criticisms of our drug laws, and he's receptive. Interesting. We also share an appreciation of attractive women, and he recommends the El Tarito to me for happy hour. He knows Dana Point from his months living in the bus, which he recalls fondly. We have a light lunch and he takes off to ride back.
I set up my camp at the Cohery Beach park, take a delicious nap, read, then wander to the El Torito. Happy hour is on. I have a beer and nachos. There is indeed a good looking waitress to look at. She's very good at not looking back. Two well-dressed young women sit nearby, talking. Some more women in business dress come in and stand waiting. I'd like to find out more about them, but I'm completely unable to muster the will to talk to them. I feel distinctly unwelcome in their little world here. I give up, wander out into the night, walk, and sing to myself before going back to the tent.