Borrego Springs, CA
to
San Diego, CA
I enter the house just as Julie is retiring to "the sauna" for the day. I give her a last tender hug. then I gather my things, pack up, and begin the climb out of Borrego Springs.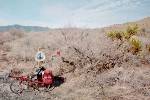 My body is feeling particularly good and the wind is gentle. Climbing in the dry heat as the sun ascends feels perfect. My mind fills with memories of the PCT as I join San Felipe creek on highway 78. That journey is now a bottomless well of joy and romance within me, and I wonder if this trip will undergo that transformation as well. When I cross the trail everything looks just as I remember it. My memory is so clear that I wonder if I've used up a disproportionate amount of it on that trip. I certainly have trouble remembering anything else in such detail. I was thirsty then, so on this reunion I have a long drink before starting toward the hills to the west.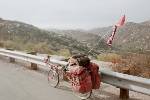 The canyon I climb is filled with oaks. I know that the desert is now behind me. After a long, winding climb I roll into the picturesque forests and fields surrounding quaint, touristy Julian. There people surround me, asking about my journey and applauding my answers. I have a fabulous breakfast, including the best apple walnut pancakes I can imagine.
From there the grassy, boulder-strewn hills slowly give way to city. I take a long, twisted route into San Diego, but manage to roll up to the familiar house at Feldspar Street before dark. No one is expecting me, so I stick my head in the door and ask if I can use the bathroom. I grin at Bill and Russ until they recognize me, saying, "Dylan? What the fuck?" I try to play up my entry all I can. Then I hang out and eat while they play nintendo and get high. Same I thing I did last time I was here, prior to my PCT hike 1996.
Russ takes me out with a couple of goofy rich guys for sushi. I gather they're customers. They're a little annoying, but they drive and share their food. I try all sorts of stuff I've never had: eel rolls, octopus, salmon, and rainbow rolls, all good. I talk a bit with Russ. He's still never had a taxpaying job, which I sort of admire. He's become proud of his "Wyoming heritage," and talks about hunting coyotes to make a jacket for himself. He talks a lot about his friend Master Fuol, a hip hop artist from Brooklyn. Russ calls him a blessing, his true family. Russ, I should mention, is wearing a Ralph Lauren polo sweatsuit, hiking boots, gold chains, and a diamond earring. He tells me he's a giving person and he'll share the wealth with me if Fuol makes him into a hip-hop mover and shaker. He describes his generosity with a story. When he took Fuol to visit Laramie they flew in two "fine Jamaican bitches" who stayed with Russ at his parents house. Russ knew Scott Barker, the only black kid we grew up with in Laramie, had never been laid by a black chick. So he sent one of the Jamaicans over to Scott's with instructions to fuck his brains out. He says Scott still thanks him whenever he sees him. I take all of this with a grain of salt. Russ is notorious for leeching off of women and friends, borrowing money and never repaying it, failing to come up with rent, etc. I still give him the benefit of the doubt because of his one act of generosity towards me – he gave me a skateboard when Pete and I lived in Jackson Hole and I was way too poor to buy one. I've always liked him, even if I don't care to live in his world.
Russ has developed a taste for cognac, and pays $28 for a shot of Sempe. I try a taste, but I'm not about to shell out for any.
On the way home the more annoying rich guy has to pee, and when he steps into some bushes we flash the lights and honk the horn at him. I laugh heartily in spite of myself.
We get home and everyone but me proceeds to smoke out. At one point Russ looks out the door, spits and swears, slams it, and takes off out the back, saying, "cops". There's a great commotion to hide things. The rich guys break the bong. Bill goes outside to deal with them. Turns out to be a noise complaint. We don't see Russ for a few hours. I lay claim to a couch and make myself comfortable.