Palo Verde, CA
to
Salton City, CA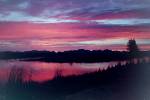 I awake to a neon sunrise. The sky is too pink, I'll never be able to remember it.
Again I'm climbing desert hills. I notice the cactus is far more sparse here. No Saguaros, only scattered Cholla. A light headwind makes me work and builds my appetite. I twist among high desert hills before descending slowly toward the long string of sand dunes gathered at low elevations, below sea level.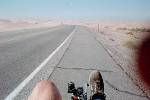 At Glamis I cook oatmeal on the tables outside the store. Only a few people enter and leave, they pay no attention to me. I'm in a state of mind where I notice a nearly full bag of Fritos in the trash, but I'm not hungry enough to take it. I eat more of Aunt Vera's chocolate as I pack up and ride into the dunes.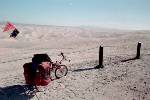 To my right are beautiful, pristine, crisp sand dunes, while to my left they are scarred by mottled ATV tracks as far as I can see.
Irrigation canals and green fields begin to appear again. At a highway intersection I meet two young hippies, a couple, travelling with nothing but a jug of water. They tell me I passed a warm springs where they've been camping for a couple weeks with a bunch of people, picking lettuce for money. Now they plan to hitchhike to Guatemala. The girl does all the talking, the guy only tells me his name, Sam. Sam and Cynthia. They catch a ride before I find out any more. Good luck, kids.
I notice a dense orange-blue smog ahead in the valley as I ride through Brawley. I've left the Adventure Cycling route, so I stop and peek at some maps in a convenience store. The tug to spend money is starting to lose its power. I find a free map to Salton City.
It's hot. One sign flashes 91 degrees. I see thick smoke rising from some of the fields. Over the mountains on my left four fighter jets play, doing airshow tricks. In Westmorland I catch a flat and fix it at a small auto shop where they let me have some air. A truck driver asks about my journey while eating a big burrito that I can't help eyeing hungrily.
A local tells me the smoke is from farmers burning leftover crops to induce faster growth. It works especially with asparagus, he says. He doesn't seem to mind or even notice the thick cloud it creates.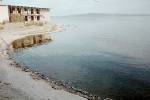 It's a long, tiring ride to Salton City. I catch glimpses of the Salton Sea, and I detect a salty, cheesy smell emanating from it. Algae farts, a resident calls them. Salton City is an apocolyptic vision. Scattered, secluded houses in barren desert. The cloud of smog sitting over the sea to the south. 90 degrees in January. Dead fish and burned out resorts lining the shore. Moribund in every way. I can't even find a place to sit and make dinner, so I ride out into the desert.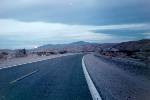 I find a little stand of Tamarisk trees to shelter me. I thought I had one last rice dinner to cook, but I don't, so I eat oatmeal again. I settle in cozily among the branches while wind rips through the desert all around. The fall moon rises before fading out behind thin clouds.