Hope, AZ
to
Palo Verde, CA
I wake up alive, safe, and warm. No hurry to get up. I put the bike together and escape my cactus-strewn bed without a flat.
Oh, the little cafes call to me for breakfast. I wonder how I could possibly eat without money. Beg? Wash dishes? Charm the snowbirds? For now I just resist.
As I approach Quartzite, it looks like a great bed of white rock in the desert. As I aproach, I notice there are a lot of RVs scattered around. Getting closer, I see there is no bed of rock, but thousands upon thousands of RVs. There don't seem to be any permanent buildings at all. I call Mom to wish her a happy birthday, and tell her about this crazy place. I work up enough curiosity to ask somebody what's going on here. Apparently as the winter site of some swap meets Quartzite began to attract snowbirds for 3 months out of the year. Now in December the population goes from a few thousand to well over a million.
Again, I resist bargaining for food.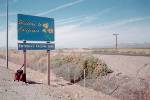 Over a small pass I finally reach a rest area at Ehrenberg, where I cook a big bowl of oatmeal. I've now been on I-10 for a while, with just a couple of miles to go to the California border. The border station smells like a hundred kinds of citrus and plants. It must be from food confiscated at the point of entry.
Blythe is a big town. Again I feel the economy tugging at me. Ice Cream. Pizza. But I ride on through, munching on Christmas chocolates.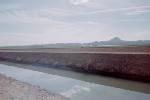 I enter a strange desert valley, wide and flat, where big green fields display the magic of irrigation. The contrast with the surrounding dusty hills is stark.
In Palo Verde I enter a store looking for water, since there are no more towns for a long way. A guy looking at fishing tackle tells me there's a free campground outside town. Sounds perfect, so even though it's still early I pitch the tent under a huge, soft Tamarisk and relax. No one there pays any attention to me. I read, write, and cook noodles. There's a phone and I consider calling Ann, but decide against it. I get very into the story of Oedipus reading the cycle of plays by Sophocles, impressed by how the plain style can embody so many insights.