Sun City West, AZ
to
Hope, AZ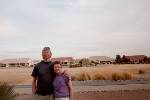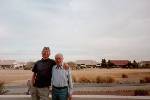 Vera and Hal clearly don't want me to leave. I think I'm a welcome diversion for them, and a reminder of loving family, especially their son Tom. I see Harold fighting back tears as I pedal away.
Into the warm air and flat desert I go. My left ankle and right knee hurt a little, not sure why. In Wickenberg I begin a gentle climb. There I manage to spend every last cent of my cash on tacos and ice cream. I determine to try my experiment again of getting by without money, and I climb into the dry hills that much lighter. My last phone call is to Michael. I agree to meet him on Friday in Borrego Springs.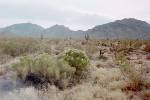 Towns like Aguila are made up of a handful of trailers and a rundown cafe. I wave to some hobos in a little shelter by some railroad tracks. They smile over something cooking in a can over a small fire.
I feel the pull of every store and cafe on my belly. I've been thinking of pulling off the road for some lunch in an aqueduct, but I'm hoping for a picnic table. Finally I give in when I find 45 cents in the top of my bike bag. I stop at a bakery, buy a donut, and sit on a table out front to eat it with a pastie from Aunt Vera. Now I'm truly broke, but my belly feels good.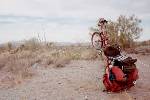 At sundown I take off into the desert, find a flat spot, stretch, and cook noodles. I love this warm air. My sleeping pad is gone, so I just stretch out on the ground. The moon is getting big, the quiet is like a blanket. I wonder idly if there are any scorpions around, but the more enticing thought of Ann overtakes my mind. I wish I could share this sultry desert air with her.