Mesa, AZ
to
Sun City West, AZ
11782 mi
The Mesa-Phoenix sprawl seems endless. One shopping center after another. Orange trees everywhere. Even at dawn, the air is invigorating but comfortable in shorts and a T-shirt. I think I have a 30+ mile ride to reach my Great Aunt Vera's, but it stretches on and on. I stop for coffee and a muffin, then at some bike shops where I stock up on parts and replace my lock. It's almost noon when I call for final directrions.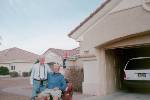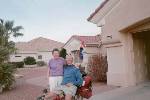 Sun City West is really on the edge of the larger Phoenix area, and I end up on 60 again for a while. It's a walled, planned, manufactured community. Uncle Harold meets me in his golf cart, which I chase happily back to his house. I meet Aunt Vera. Much like I expected she is energetic and accepting. Aside from their house seeming unnaturally clean, I feel at home. I shower and eat alphabet soup for lunch. We talk family, and I open some Christmas gifts that arrived here. I have four little gifts from Dewey and Carter, and many thoughtful presents from Mom.
There is no mention of church in the morning, and no open prayer at meals. The only thing to make me uncomfortable is the immaculate housekeeping, which hardly seems to leave room for living, but I settle into it as best I can.
When I check my email there is a message from Ann with the subject "missing you". My uncertainties disappear, and I'm flooded with love for her.
At bedtime I read and endure the sugar cravings that seem to attack me mercilessly on these visits. I'm very thankful for the large quantities of chocolate Mom sent.