Springerville, AZ
to
Seneca, AZ
11635 mi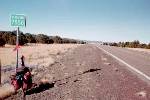 I enjoy a morning of calm wind. Sunny and warmer than yesterday. A cute waitress in Springerville takes good care of me, gives me water, cash back, and makes sure I don't forget anything.
I'm among the high, dry area of the White Mountains. More seas of yellow grass, peaks to the left, a 7,500-ft pass. To the right the land seems to spread out forever.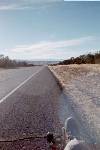 It's the same to Show Low, where I have lunch. I've lost some elevation and sweet-smelling scrubby pines have appeared. A coyote watched me go by from a stand. As I leave Show Low, suddenly I'm in lush Ponderosa forest.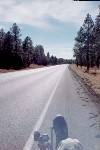 There's still no wind, it's all downhill, and very green and inviting. I start to feel happy. I let the feeling grow with the miles, until at last I emerge in a deep, dry, red canyon and the downhill appears to be over. I guess that I've just descended the Mogollon Rim.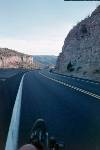 Soon I'm climbing out of the canyon, then climbing strenuously back into the trees. I really throw myself into it. Then I get another long downhill. This time I'm giddy, and I start shouting any absurdity that pops into my head. I'm also passing through alternating pockets of very cold and very warm air. The contrast throws my senses wide open. Soon my body is convulsing in spasms of pleasure, I'm laughing uncontrollably, and feeling completely at one with everything.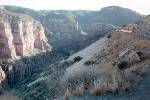 The laughing and ecstasy drift calmly away as I ascend one last hill, then I dive serenely into the beautiful Salt River canyon. It's steep and fast, the rhythm of my heart and the curves and the canyon all seem to be in sync. At the bottom I feel full of peace.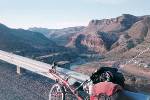 Of course now I'm at the bottom of a deep canyon and it's getting toward the end of the day. I feel so good, I cheerfully start the climb out. The sun sets and I'm still climbing. The quarter moon comes out. It gets dark. At last I reach the top and descend a ways into Tonto national forest. I find a campsite and cook my dinner in the moonlight. I'm back up high enough that there are patches of snow all around.