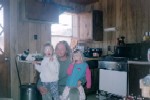 Bill shares his life with me as he has in the past. His daughter Megan, now 15 and full tilt into puberty, comes home. On Sunday we pick up Sage, 6, and Tyler, 4. All beautiful, spirited girls. My dad gets a taste of how Bill and I operate before leaving on Monday. Life is reduced to a dance of two flows: the physical flow of life in a such a household, and the mental-emotional flow of exchanges between all the players. Despite being passed back and forth between families, Sage and Tyler are kind and full of fun. Megan is a tougher nut. She's full of winning smiles, but emotionally closed. She likes to be around us but stays withdrawn – probably no different than I would have been at that age.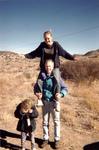 On the physical side Bill does most of the work and I chip in whenever I can make an opportunity. I cook a meal for every 2 he makes, chop wood, do dishes, clean floors. All of it is an easy dance where everyone wins. If I feel unable to toss in my share, I buy some groceries or a meal out to keep things spinning. The end result is a house that stays warm, reasonably clean, and stocked with good food and drink.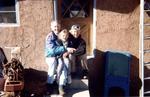 In the mental-emotional scene Bill is by far the strongest source. Megan is unreadable, and the little girls reflect Bill's emanations, adding the enthusiasm, energy, and traumas of children. I soak up Bill's energy and let it inspire my own feelings and ideas. That's the way it has always worked with us. It results in a lot of laughter, love, and pleasant egoism.
There is an ongoing conflict between Bill and Megan. Bill is critical of her behavior, especially her non-contribution. Megan defensively challenges Bill's ego, which makes him even more critical. I fear it won't end well. I try a bit to coax her out of her shell, but clearly she needs a reliable, nurturing mother-figure to make her feel safe and self-confident enough to express herself. I feel for her.
Sage, Tyler and I get on famously. They can play for hours while Bill and I talk, then climb all over me while I swing them around and squeeze the giggles out of them. Sage is quickly comfortable with me. She says she wishes I could also be her daddy, jumps on me for hugs, and falls asleep holding my hand one night during a movie. I wonder if it has anything to do with the fact that I sometimes cared for her when she was a baby. Tyler stays closer to Dad. I am fun, but Bill is required to feel safe. So I'm surprised when after a few nights she crawls into my arms for a story before bed. She still needs a hug from Dad before falling asleep, but I feel I've been let in.
This is my second family. I feel welcome here, and they are always welcome with me. It's the sort of friendship that can go on for generations, I hope. This is just another chapter in the tale.