Del Rio, TX
to
Sanderson, TX
I'm up early, grab a couple of breakfast burritos to eat in my warm room, then ride north out of Del Rio in a chilly mist. I have no expectations, no landmarks or towns to anticipate, nothing to do but ride until I'm tired. This helps me reach a very open, present state of mind which in turn helps me cope with the icy wind and desolate landscape. I don't think about anything coming up ahead because I don't expect it to be any different from where I am. I sink into a timeless rhythm.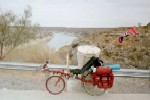 The spell is broken here and there. I stop at a little store for a break. The Pecos canyon startles me with its grandeur. An entire little town is devoted to relics of a legendary eccentric old west law man, Judge Roy Bean, "the only law west of the Pecos".
I ride until I'm weary, watch the sun sink behind the mesas, and fall asleep on the rocky ground under a giant moon.