Bastrop, TX
to
Blanco, TX
10493 mi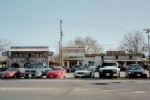 The morning starts cold and gets colder. The wind comes up. It's cloudy. By the time I reach Martindale I'm pretty miserable. It comes out in my phone calls to Mom and Dad. I'm outside on a payphone in the wind, and can't pay attention. Then between Martindale and San Marcos the sun comes out and the wind dies down a bit. I stop at the library, get warm, and feel much better. I have a snack, and when I leave town it's a bright, sunny, warmish day. I climb into some really pretty country. The climax is Wimberly, a really cute little town nestled in the red, rocky hill country. It's clearly growing quickly. I can see it becoming a trendy Texan Sante Fe someday. I'm glad to have stolen a look at it before the strip malls and car lots find it.
This is the heart of the hill country. There are some tough climbs, but they're rewarding. I enjoy the riding, keeping at it all the way into Blanco where I head for the state park. The gate is unmanned, so I just ride into the campground and set up. Some kids nearby offer me their company. A cute little girl who has never eaten an almond shares some from my bag. They come and go while I cook and eat dinner.
It's getting really cold again tonight. I've caught a chill, so I take my clothes to the bathroom, take a delicious hot shower, then bundle up. It works wonderfully. The picnic tables are sheltered, so I just pick one, roll out, and go to sleep. I'm cozy all night.