Livingston, TX
to
William Penn, TX
10314 mi
I take a short, cold ride to Onalaska on Lake Livingston, where I eat in a hot little shack on the shore. I'm lured into the library in Huntsville to answer a few emails, then I head for Novasota. The country opens up a little with ranches, farms, and hardwoods replacing the pine forests. The roads I'm on are not great, it's still cold, and the wind comes up. I'm happy to reach Navasota, and even happier to pick up the box of goodies Mom sent. A few of those magical chocolate chip cookies perk me right up. I leave Navasoata's quaint main street and Victorian homes with a full belly.
Back on the bike route with the next map, I find small roads and interesting stuff. Washington, barely even a town now, was the capital of Texas when it was an independant country, and site of many great meetings and happenings.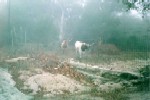 As the day wears on and I start scoping out camp spots, I realize that I have entered cattle country and everything is fenced tight. I ride for some time before I find an empty open field with a section away from the road for me to camp in. I talk with some noisy squirrels before turning in.