Bon Weir, TX
to
Livingston, TX
10211 mi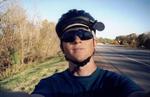 Newton offers no good breakfast prospects, so I continue to Jasper. Lots of logging going on here, but I like riding through the bright green pine forests in the sun. In Jasper I supplement my groceries. The stores here have no hummus or tuna salad so I try a can of plain tuna. The only restaurant is a Ramada Inn, but it's tasty.
The terrain and weather remain nice to Livingston. I feel comfortable biking here because I can find good camping anywhere. In Livingston school is getting out and the kids on passing busses get rowdy when they see me. I ride on through.
A few miles down the road a bearded guy selling Christmas trees flags me down and offers to let me stay in the little trailer he is operating out of. It's getting late so I agree. He gives me a taco to eat, says he needs to go get propane, and tells me to sell trees for $20 while he's gone. Ah, so I do get to earn my keep. I like it better that way. I help a couple pick out a tree, but they have to leave to get cash. Charlie comes back, hooks up the propane, turns on my heat, and we get some time to talk. He's a local, born and raised in Livingston. In junior high he was the first guy to pierce his ear. The next day his coach told him to take a letter to the principal, and the principal told him to remove the earring or get out. He left and never went back, never learned to read and write. He had long hair, and says rednecks would chase him through the woods with scissors. He had to learn to take care of his own problems, and still does. He's a habitual pot smoker, husband to his junior high sweetheart, father, builder, and real estate tycoon. He built his house and the flea market on this roadside property. He's justifiably proud, and full of new plans. When he leaves I sell a couple of trees then sleep warm through the cold night.