Pass Christian, MP
to
New Orleans, LA
9860 mi
I wake up to a nice morning on a misty gulf. The road soon turns inland after crossing a bayou. In Waveland I eat at a Waffle House, where a salty lady in her 40's cheers me on, "You go, boy!" She loves my project.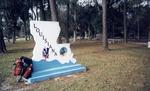 The first thing I see in Louisiana is an old shack on a swamp. It's perfect. Before long I'm crossing lake Pontchartrain onto a thin little peninsula. First I pass Fort Pike, then a long string of unpretentious little homes. Each on has a sign on the road, "Love This Place," "Finally Mine," "Dream Come True," "Are We Having Fun Yet?," "It'll do", etc. They go on a long time.
I cross a bridge into anonymous upscale homes. One more bridge brings me to East New Orleans, where all the stores are barred up like cages. Everyone I see is either black or asian. A lot of them take to yelling at me when I go by. I keep riding till I cross one last bridge. Things calm down then. I stop and buy a Louisiana map, but at first glance it doesn't help me get oriented. I ride toward the river, and soon I have no doubt I've cruised straight into the French Quarter.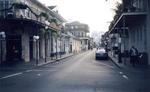 Tall shops with wrought iron balconies ooze character, color, and music out onto the street. People around are models, street performers, artists, businessmen, tourists, partyers, freaks, and socialites all mixing it up. Ivy droops from the balconies, fans, everything.
I find Bourbon St., then Toulouse, and finally O'Flaherty's Irish Pub where Andrea, who I met cycling in Oregon, works as a bartender. I inquire after her and learn that she starts at 8, so I have some hours to kill. Shouldn't be hard here. A parking attendant lets me lock my bike up inside his fenced-in lot. I heave my shoulder bag and step into the Quarter.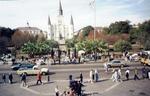 On Decatur the crowds are cheering, performers are lined up around the park in front of the St. Louis Cathedral juggling bowling balls, swallowing fire, and playing stupid crowd tricks. Street musicians bust out with that fine New Orleans jazz with banjo, clarinet, tuba, trumpet, kick drum, snare, and cymbal fluttering together to make that unmistakable sound. And of course the string bass is there creating the current to keep it all moving.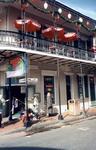 I check out some other streets. Bourbon is lined with bars – dark blues bars, bright neon daqris joints, and everything in between. Lots of little counters right on the street sell beer and shots to go, and the southern blocks are lined with nude dance clubs.
Near downtown I see a gallery that stops me in my tracks. James Michelopoulus paints New Orleans houses and cars with the color and energy of Van Gogh. Just incredible to look at, radiating energy, some of the paintings still drying.
I eat some lunch out of my bag in the park on Decatur, wander through a hundred tiny shops, relax in Louis Armstrong park, have delicious coffee on Royal, poke around the voodoo shops on St. Peter and St. Ann. I check out a bunch of places for dinner, almost stop at one because a girl sitting alone at a table smiles at me, but then someone joins her. Finally I decide on a cheap bowl of seafood gumbo on St. Peter. It's served with rice and bread, has pretty good shrimp and scallops in it, but doesn't really come alive until I add a few dashes of pepper sauce. Ah, now that's nice.
It's dark when I leave, and everything seems to have quieted down except for Bourbon St., which is filling up with people. A girl there with an eye patch gives me a citation for not partying hard enough. She's collecting donations for homeless shelters and squeezes me for a buck. I plead guilty, more due to her charms I'm afraid than my generosity.
I go back to O'Flaherty's to wait for Andrea. There I watch two guys from out of town pick up on a trio of local girls. They have their hands full, and get left at the bar. Andrea shows up, but it takes me a minute to recognize her. It takes her a minute too, then she can hardly believe it's me. She gets excited and I distract her from her job for a few minutes. She makes good on her promise and then some, buying me a couple of beers and a really good piece of Irish Cream Cake. I learn that she's going for her PhD in Education when she's not tending bar. She has a sister, Laura, who works down the street at the Shim Sham, which she suggests I check out later. Meanwhile I listen to a guitarist named Beth play some Irish and not-so-Irish tunes. She plays Matty Groves for me, and is generally a smartass. I like her. I swill a couple more pints of Guinness while she plays with Patrick O'Flaherty on mandolin.
Andrea's pretty busy, so I slide on down to the Shim Sham. It's a great place, with Tom Waits all over the jukebox and Touch of Evil playing on a screen in a high corner. Laura is a bit more laid back than her sister. She buys me a rum and coke and calmly tends bar while we talk. I wander up to the balcony, where I find a couple of young girls to flirt with. One leaves, and I'm cozying up to the other one when her friend comes back. I leave them to their gossiping and go downstairs to BS with the art freaks. A couple of poor guys are raving about some art films, but can't explain to me why they like them ("Down By Law" is one). They just throw around of lot of names, Jim Jarmusch this, David Lynch that, yata yata. I get tired of them. Laura agrees to watch my bag while I go explore.
Bourbon is flooded with partyers. It is absolutely packed. It reminds me of the inside of a college party house in full swing, only this is outdoors. Girls tease the crowd from balconies. I work my way north to The Blacksmith, a decrepit-looking old west style building. I grab a drink and go to the corner where James Gordon is playing the piano. I join the small crowd around him, singing along. He's doing 50's tunes in an energetic, dark, drunken style. He drains a shot and chase while his free hand keeps playing. An older lady with heavy makeup and sparkly clothes adds a low, surreal vibrato to some of the tunes. When I finish my drink, I swim through the crowd back to O'Flaherty's. To my surprise, they're closing up. Andrea says she'll stop by the Shim Sham before she goes home. I wander that way with Neal and Michelle, a couple of musicians also heading out. I'm in fine spirits now. I dance with Michelle and regale them with stories. We hang out on the balcony, and I miss Andrea downstairs. When they leave they give me a card and tell me to call if I need a place to stay. I easily while away another hour with Laura and other late night Shim Shammers. Eric draws me a map to his place on a napkin and offers free showers and laundry. I would be in fine shape to stay a day or two, but when 6 am rolls around Laura pours me a big water and I decide to hit the road. I give her a big hug goodbye. I feel like New Orleans could have been rough on me if she and her sister hadn't been there to keep an eye out for me.