Pensacola, FL
to
Ft. Gains, AL
9716 mi
I decide my last hurrah will be breakfast at the Ramada, then I'll start living on the cheap. I make good on my intentions in Pensacola, retrieving some fresh bagels I see someone throwing away. As I think about ways to save money, it occurs to me that in my situation, wanting to make miles, money is really like a lubricant that keeps me from having to slow down to deal with various problems. Cooking. Bartering. Searching out free campsites, food, tickets, etc. It can all be done cheap or free, but it can take time.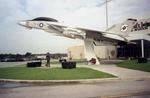 I see a sign for a Naval Air Museum that perks my curiosity. At the base gate I learn there is no admission fee, so I go for it. It is an amazing museum, where a student of aviation can gain an understanding of how airplanes work, from the cable-controlled 1920's "Jenny" to modern fighter jets.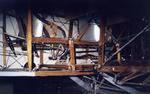 You can look at the planes with cutaways to expose the internals, illustrations, engines, and detailed explanations of it all. I lose my resolve and withdraw some cash for a combination IMAX/flight simulator ticket. At heart I feel I'm right to make my experience as rich as possible now, greasing the path, and when I scrimp in the future it will be out of necessity. That changes my whole outlook.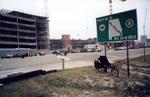 Riding out onto the San Perdido Keys I cross into Alabama. It's all beach condos, putt putt golf and clubs for a while. The air is strangely white, opaque. It looks like it should be cold, but it isn't. The development ends at Gulf Coast, and I transition into forest and small houses. I glimpse the ocean enough times to see that the mainland is out of sight. I see a flag shop and spend some more money. I meet Leroy riding a Vanguard recumbent that he logs 12,000 miles a year on. He's 77 years old. His bike is organized much like mine, and is good for touring. He rode it from Indianapolis to New York this summer. He rides 40 miles every day except Sunday he says, and when he goes to visit his son who has Leukemia. He has a firm handshake.
It starts to pour. When I get to the ferry, my ticket gets wet and dissolves. Don't worry, the lady there tells me, they won't ask for it. I wait under a tree for the ferry. I hear the foghorn and the mist uncovers a big, strange-looking boat. It's tall and has metal trusses sticking out all over it. Then I realize the ferry is to the left, and I'm looking at an oil derrick.
By the time I get off the ferry it's dark. I hadn't kept track of time. So I shell out another $16 for a campsite. It's a blessing in a way, though. I meet another bike tourist, Chris, and we spend long time discussing and laughing at the sufferings associated with distance biking. It's nice to talk with someone who understands.