Metro Park, FL
to
Big Cypress, FL
8869 mi
The gate has been closed when I leave in the morning, but as usual I just ride under it. Thankfully traffic is light on the shoulderless road.
The crossroads with 41 are in the middle of nowhere. A huge Indian casino stands caddy-corner from a lone gas station. Looking down the thin pavement of 27 as it continues south toward the keys, and considering all the recommendations I've received, I decide not to go for Key West. I figure this may be the last gas station I see for a while, so I buy a snack and a few supplies.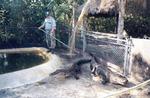 41 has a nice big shoulder, so I relax and enjoy the sun and vast Everglade grasslands. I take the first airboat I see. The guy there is in army fatigues and has a huge wad of tobacco in his cheek. The airboats are small and it looks like they have a good touring area. They're not ready yet, so I follow some German tourists to an area in the back. There is an enormous 11-ft alligator in a fenced pen there. He doesn't even look real except for his stony eyes. He stays perfectly still. I wonder if he's a little fat. A separate area contains two smaller gators. A couple of guys are herding them around by poking them behind the legs with long sticks. They bring one, about 9 feet long, to the front. "Little Man" is his name, as opposed to "Big Man" in the other cage. Jesse, a pony-tailed guy in jeans, demonstrates the art of alligator wrestling to us. He taps Little Man on the top of his snout. Little Man can't see straight ahead, so he just opens his mouth. He's cold still, and not thrashing around much. Jesse lifts his lower jaw up from underneath, again out of the gator's eyesight. His head is now lifted almost vertically. Jesse clasps those jaws in his hands, then deftly moves around the gator's head with one knee behind his fore leg. Now, he says, the gator is pretty much helpless. He tucks the monster's jaws under his chin and lets go with his hands. He then picks a German girl from the audience, who he instructs to perform all of these feats except the switch from front to back. She does it all with remarkably little trembling.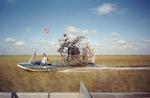 There is also a restaurant here that raises gators in glass tanks and serves them cooked. Those gator tanks are an interesting and sad sight. But, from what I've heard, they are not as awful as the places that raise the chickens and pigs we eat. I just hadn't thought of alligators as a food product.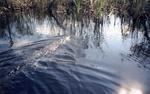 The airboat ride is great. Not only do you get the thrill of flying over grass and water, but you see the flora and fauna of the Everglades right up close, and have someone there to identify them. I eat a stem of sawgrass, watch an alligator swim, examine the trees, and learn about this 100-mile-long, 40-mile-wide river of grass called the Everglades.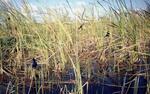 When I leave, the front tire is low. I pump it up, but soon have to stop and patch it. There are gators by the road here and there, gaping and sunning, but not moving at all. I ride by with curious care. I'm happy I took my first airboat opportunity when I see other places cramming 50 people on a boat.
The campground I planned to stay at is closed and barren, and I need water. I continue to the visitor center for that. There are fish feeding there that make a popping noise. It sounds like a bunch of people jumping on bubble wrap.
By the time I reach the next campground my back tire is low. There are no nice spots here, just a multitude of swamp buggys parked around a lake. I sit in the dirt and pull a piece of glass out of my tire, watch people drink and drive their monster trucks around, and finally pitch the tent and rest.