Vero Beach, FL
to
Jupiter, FL
8704 mi
A lazy morning. I pack, Lee walks, Vic and I eat cereal. I accept their offer for coffee to avoid offending my hosts. Coffee is one of those words that means different things to different people, and I'm afraid I've become too snobby to include the canned-grounds-drip-filter variety in my definition. A few pictures, and I'm off again. Is it hard to leave the lifestyle of a very comfortable retirement? I have to admit I liked it. But I love what I'm doing.
My bowl of cereal has left me hungry, so after a while I stop at a little dive and load up with an omelette, hash browns, and toast.
I see a bike shop and buy a new pump, one with easier action and a pressure guage.
I call my great Aunt Lou. She's happy to hear from me, and invites me to stay for Thanksgiving when the phone disconnects. I have to try two more phones and buy a new phone card before I can get her again. I'm frustrated with phone cards that don't work, and hang up on you when you call the customer service number. Eventually I reach her again and we finish our plans.
I impusively buy an expensive milkshake, then a load of good groceries. I conclude that the good life has made me careless with my money.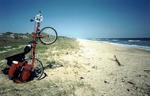 Finally I get around to making some miles. It's familiar terrain between the ocean and the intracoastal hummocks, beaches, parks, and condos. Then the road breaks inland. Often there are sidealks to ride on, but sometimes I'm forced onto shoulderless road with the cars. The road follows a railroad, and just for fun and a break from the traffic I try riding on the rail for a while. This could be done, but would require a lot of practice. I just manage to get very sweaty in a quarter of a mile.
Eventually I hit 1 with its broad shoulders, then the Jonathan Dickson State Park. Again I easily pull the trick of paying $1 to picnic, then scurrying off into the trees to camp.