Vic and I have cereal while Lee is on her morning walk. Then we spend a couple of hours washing the boat, which already looks clean to me. My reward for this is an outing on the windsurfer, which takes a while to put together. Somehow, once I'm in the water, my windsurfing experience from 14 years comes back and I'm able to sail around the cove. Sort of. I fall few times and before I know it it's time to get ready for an evening outing. I talk Vic into taking the board out for a swift cruise nonetheless, and I carefully watch his much more skillful manuevers.
Two friends in their 70's, Dick and Kay, arrive for dinner. We climb on the boat and embark on an 8-mile ride up the intracoastal waterway to have drinks and a candlelight dinner on the boat. I learn that they have cycled the Florida keys, but have nothing good to say about the roads. Kay has a way of moving that makes it clear she is still a beautful woman, and always has been.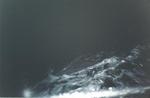 On the return trip a school of dolphins chase us, playing in the wake. I'm thrilled. They jump gracefully not five feet away. I silently urge them, challenging them in my mind to jump ever higher. They do it! Somehow they aim their splashes directly at me, as if they're competing to see who can give me the best soaking. Then they disappear. I say goodnight to them, but keep watching, thinking now and then I see one in the distance behind us.