Cocoa, FL
to
Vero Beach, FL
8643 mi
Bev cooks a good breakfast, we take some photos, and I'm riding again. I'm excited to get to Vero Beach to see what Vic, who I met cycling in Vermont, has in store for me.
It rains on me for the first time since South Carolina. It's totally different here, the rain is warm and smells tropical. It lifts as I leave the cute tourist shops of Cocoa.
On Vic's advice I stay on 1 til Melbourne, then cross to A1A. It's a familiar alternation of condos and homes, then unadulterated state park beach and hammocks. I stop at one beach for a snack where I'm amazed by the number of young girls in swimsuits.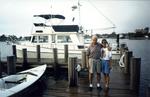 About 3 I show up at Vic's. He welcomes me into a spacious, spotless, well-lit home. In the back yard 3 boats are docked in his space on a pretty little cove. He has a small sailboat, a 20-ft motorboat ("Cricket"), and a 42-ft Grand Banks yacht ("Meander"). I meet his wife Lee (not to be confused with his brother Lee, who I met him with), and take a shower. He takes me out for a little ride in Cricket.
Something about Vic & Lee makes me feel at ease. It's not that they're laid back really, they're both very fastidious. Every time I notice I've tracked a piece of grass or sand in on the floor, a minute later Lee has removed it. Vic explains how he figured out it costs 15 cents to get hot water from the heater to their bathroom, so he takes a shower while the water warms up then lets Lee have it. Yet I'm confident they enjoy providing for me while I'm here. It could be that their values are just closer to mine than most other people I've visited so far. I tell stories freely over dinner, then settle into bed.