I go to work with Jim in his very modest little Honda. He buys me a bagel and very good local orange juice for breakfast.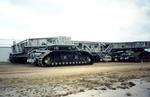 The first thing that strikes me about Kennedy Space Center is the size. There's a whole internal network of highways to get from one area to another. We check out the odd assortment of planes on the airstrip, including the astronauts' personal fighter jets. We take a close look at the huge "crawler" that ferries the space shuttle to the launch pad, and after one failed attempt manage to get a fairly close view of the Orbiter on the pad. I'm grateful to Jim for skipping quite a bit of work to show me all this. He seems to enjoy it too. We watch some pieces of space station Freedom being assembled, and ask the woman there about the serious consequences if Russia doesn't get her next piece up.
Finally Jim gets to work and I meet his colleagues. Good fortune brings a tour of 3 high school kids through, and I listen in while Jim explains what he does. He has no better visual aid than a little cardboard model of a satellite, and the kids look bored. I follow with interest as he explains how he found a problem with the physics of a science satellite scheduled for launch in 3 months. He checks the physics behnind many missions by building detailed computer models. His area of specialty is control systems. I'm intrigued by the idea of the dancing bits in his computer model of an actual physical object destined, perhaps, to be the corporeal incarnation of those bits. We tag along with the kids to see some neat stereoscopic 3D computer animations. The questions I ask may turn out to help Jim obtain animations of his models in the future. He leaves to catch a meeting while I meet Jim Dumoulin, NASA's network guy here and a man after my own heart. He stresses redundant systems, employs many well-artchitected unix (even Linux!) boxes, and appears to do more with a few people than DePaul did with two departments. A genius and unsung hero behind many heavily used websites and internal systems.
We go to lunch, then Jim drops me off at the visitor's center. The excitement of the day has worn me out. I eat ice cream, take in a truly awesome IMAX movie about the shuttle, see exhibits, write journals. I'm still drained when we get back home and join Bev by the pool with a beer. She whips up a great dinner of chicken, carrots, potatoes, and salad. I use my remaining energy to try to be a good guest.
All day I consider whether I'd like working for NASA. I wonder if scientific exploration, done by necessity with taxpayer's money, will ever pay dividends. I marvel that for the first time a planet orbiting a distant star has been visually detected. I wonder if I could somehow contribute to the exploration of our universe and also live near mountains…