Flagler Beach, FL
to
Cocoa, FL
8577 mi
The trick is to get out of the park without any rangers spotting me. After some effort, however, I find the park entirely fenced in, so I have to exit through the gate. I luck out, it's 7 am and the park doesn't open until 8, so there's no one here yet. Off I go, under the gate.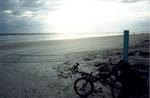 At Daytona Beach I discover a new feeling of freedom flying down the wide, packed white sand beach, waves lapping at the tires, ocean breeze at my back, and a few scantily clad personages running in the spray. I break amidst several miles of this blissful riding for a big breakfast at a beach club downtown.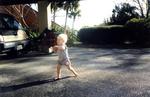 From there I ride to Cocoa on 1, but it's not bad because there is good shoulder or bike path all the way. In Titusville I eat and call Bev Sudermann for directions to her house. An hour later I'm riding up a driveway on the Indian River to an elegant 3-story home. Inside I find Bev, picking up 2-year-old Peter's toys. Pete, meanwhile, is happily eating and watching TV. He's a blue-eyed, bleach-blond kid who looks remarkably like I did at that age.
I learn that Bev quit her job writing software for NASA to be a full-time mom. She strikes me as a woman doing her best to enjoy and maintain a very nice lifestyle. While I like her laid-back appreciation of good things, there are too many things of value to me missing here for me to be comfortable.
I recognize what I found strange about Jim's voice on the phone. It has been permanently softened by talking all the time to his 2-year-old. We all get along well, eating pork roast and hollandais sauce for dinner. After we watch Toy Story with Petey I relax in the newly redecorated guest room.