St. Augustine, FL
to
Flagler Beach, FL
8497 mi
What a night. The first time I hear shuffling in my bags I wake with a shout. When I turn my light on I see two pair of shining green eyes peering back at me. The way they move makes me imagine creatures with long necks on which their heads bob and sweep around. On their second attempt I chase them down the road and see that it's a raccoon. On attempt #3 I nail one with a rock, then bring my lunch bag into the tent with me. They wake me up a few times more but get nothing. At least it's a gorgeous night, bright stars and a half moon sparkle in an inky sky.
I feel okay in the morning. I sleep in a bit, eat oatmeal, and ride out the back way through the sand.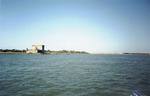 On an impulse I stop at Fort Matanzas State Park. It's pretty, completely free, with a nature trail and ferry to the fort on its small island. It's a tiny fort, built to guard the inlet that was St. Augustine's back door. The fort played a crucial role in the Spanish hold on Florida in the 18th century, which the ranger does a fantastic job of explaining. I make a donation when I leave just because she was so good.
Also at this park I taste a leaf from a Red Bay tree, learning where the Bay leaves that I've cooked with come from.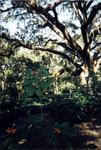 Another stretch of road takes me to Washington Oaks State Park. Here I explore peaceful tropical gardens, settling into that crisp state of mind that seems to flourish in such places of carefully nurtured quietude and beauty.
I ride through sparse, sandy, low-volume tourist beach towns to Flagler Beach, the largest of them. Here the homes are modest, picnic tables and beach access plentiful, and advertising bright and garish. At the far south end is another state park, where I pay $1 to picnic, then afterward sneak into the bushes to camp.