Jacksonville, FL
to
St. Augustine, FL
8459 mi
After one last breakfast, Grandpa gives me a handful of bills. I know I have to accept them, so I give him my sincere thanks. I tell him I'll try to use it to keep me happy and safe on the road. We take the bike down, take a few photos, and I set off.
I have a nice tailwind, a bright sunny day, and I really fly. It's Florida, flat and wide, art deco waterfront homes, condos, and sandy state parks. I reach St. Augustine by lunch and partake of a chinese buffet.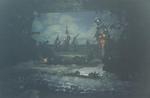 I see signs for the Fountain of Youth Acheological Park. It looks cheesy, but I fork out $5 to find out. It turns out to be quite interesting. There is a lot of information about Ponce de Leon's landing at St. Augustine, artifacts, and water from the spring. There are some cheesy things too. There's a two-story glow-in-the-dark world globe with Columbus and Ponce's voyages traced on it, and a planetarium with models of ships and navigation tools like the quadrant, sextant, and astrolabe.
Downtown I pay another $4 to go inside the huge Spanish fort Castillo de San Marcos, and again find lots of good history and artifacts. I find my conception of how this country was colonized was largely wrong. The Spanish built the oldest American colonies here in Florida, a century before the Pilgrims landed.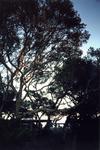 Finally I ride out to Anastasia State Park on the coast and pay $16 to camp. It's a nice, private spot in the sand surrounded by live oaks, cabbage palm, and palmetto. I cook some mac & cheese for dinner.